Campus Projects General Information
The Planning, Design, and Construction (PDC) Department is committed to providing proactive service and value to campus and partnership clients. Our goal is to deliver quality projects within budget and on time. Our project managers and leadership staff come from the architectural, engineering, interior design and construction industries, providing the university with a wealth of experience from which to draw for efficient and effective project execution. We endeavor to understand your project vision as the first step to a fruitful relationship and successful project outcome. To that end, please review the information below prior to submitting your project request.
Once you have reviewed, please click the "Submit Minor Project Request" button at the bottom of the page.
IDENTIFY PROJECT REQUIREMENTS
A clear and detailed description of your project requirements will expedite project request review and scope development. Space occupancy and layout requirements, electrical and data needs, equipment that will be utilized in the space, any changes to finishes, and any furniture modification must be identified to provide a complete scope.
IDENTIFY TIME CONTRAINTS
It is imperative to plan your project requests in advance of when your project is needed. There are many steps to approving, funding, scoping, designing, permitting and constructing any project.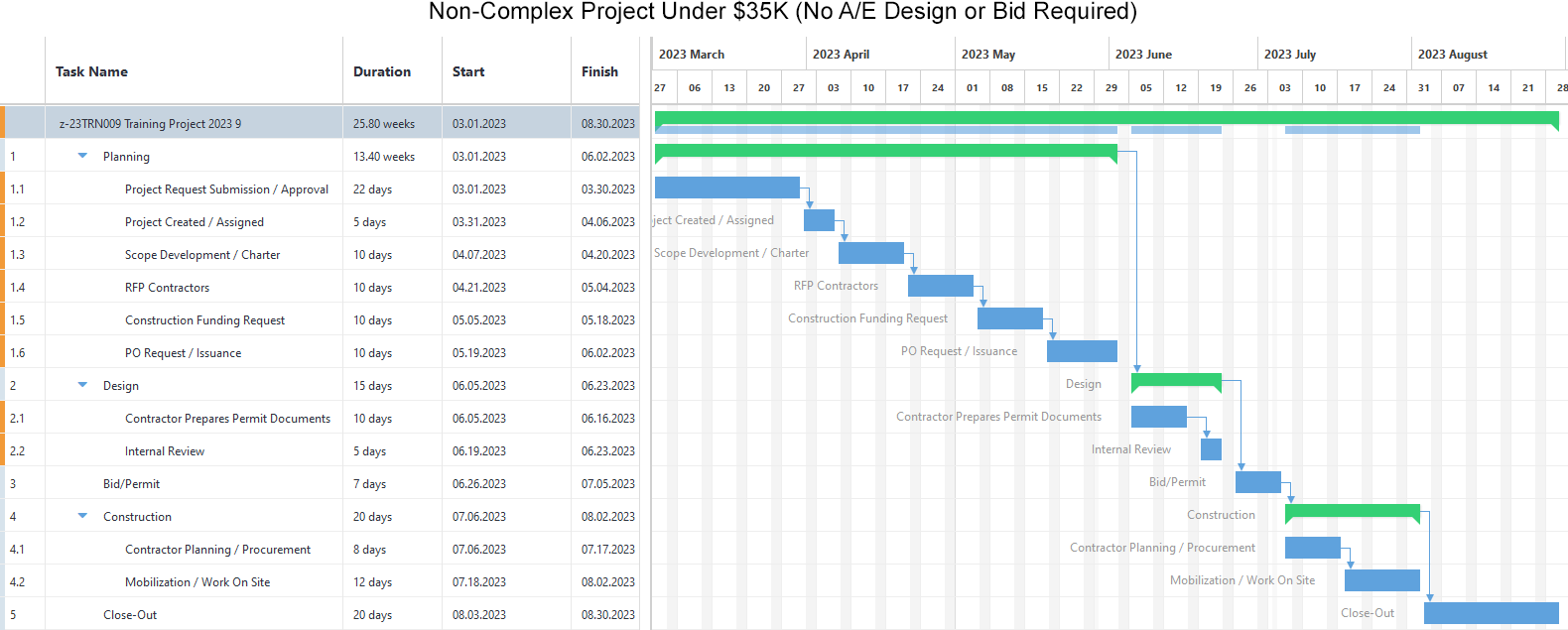 Overall Schedule Duration: 5.7 months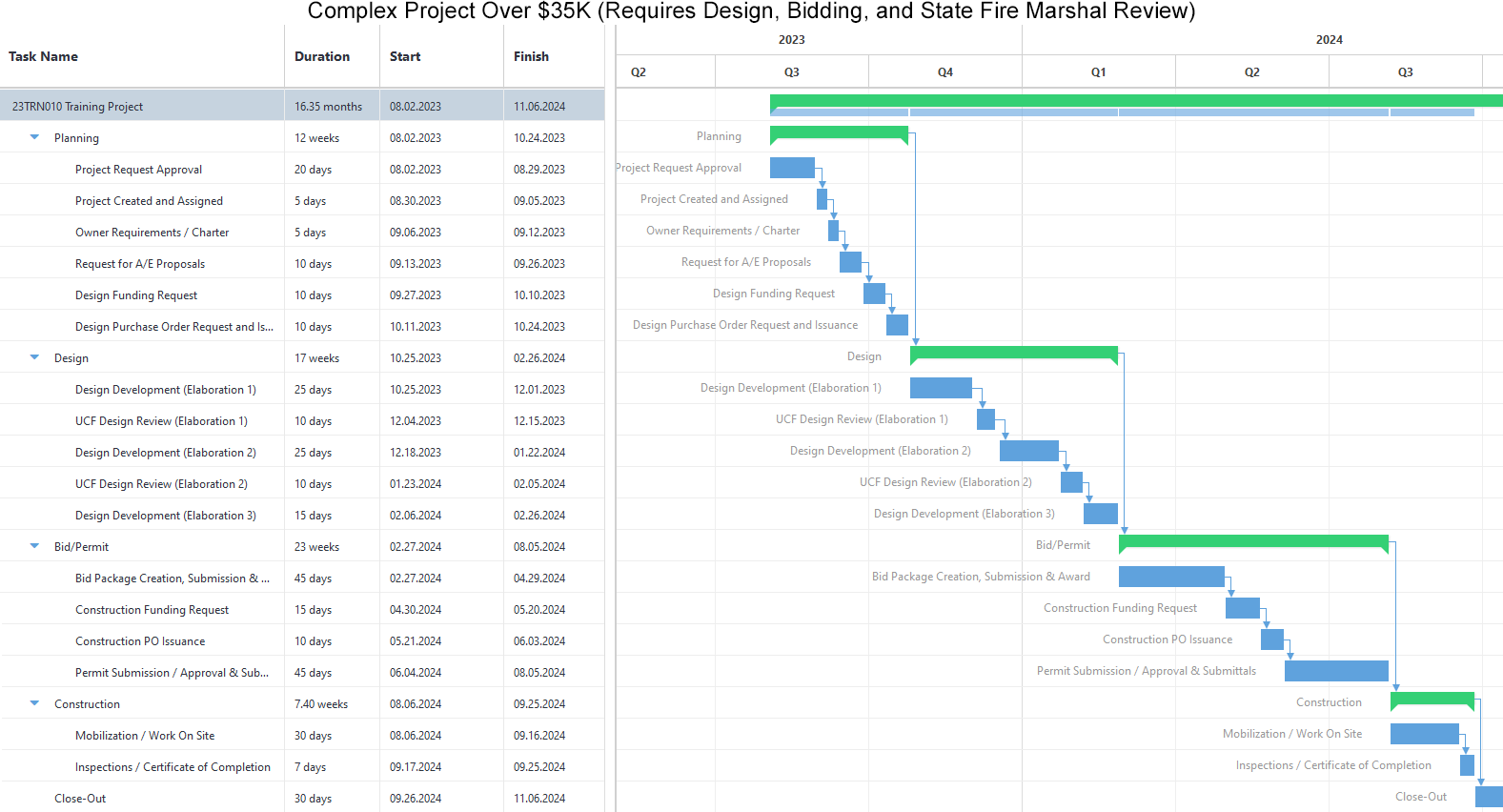 Overall Schedule Duration: 16.5 months
Please note that the university budget cycle should be taken into consideration when contemplating a project. Funding may only be transferred to a project for fully scoped design or after the receipt of a legitimate close-range cost estimate. Requestors are responsible to ensure funding for subsequent phases is available across multiple fiscal years.
IDENTIFY BUDGET CONSTRAINTS
Facilities and Business Operations, and PDC do not provide funding for Campus Projects. All funding for projects must be provided by the requesting unit. As part of your project request, you must provide funding worktags for your project, and the budget amount that you have available to fund your project. Though the funds will not be restricted to your project until the project is fully scoped and the budget approved, sharing your available funding with PDC is critical to the success of your project – without knowing the funding available for a project, it is impossible for us to know if your scope is achievable.
It is important to keep in mind that when you request modification to a space, the space must be brought up to code for the new use of space. This often causes unanticipated costs, but they are part of the project and must be funded by the requesting unit. Some examples of this are the addition of an outlet requiring a circuit that will cause an overcapacity on the supporting panel which will require the addition of an electrical panel; the addition of equipment that will necessitate modification of building ventilation; or the update of furniture that will require the room to meet current occupancy code.
PDC has maintained project cost and schedule sheets for every project completed since 2020. A review of the Project Cost Archive may help you understand realistic budgets and timelines for various project types. If you are still unsure of the possible cost of your project, PDC may provide a rough order of magnitude (ROM) cost estimate. To request a ROM estimate, contact your Project Portfolio Manager. If a close-range estimate is required, follow the project request process, and clearly list in your project description that a cost estimate is desired. A third-party cost estimator, architect, engineer, or contractor will be engaged, at a cost to the requesting unit. PDC estimates are our best "statement of probable cost" of a project given the scope that we know at the time, with pricing known at the time.
In addition to design and construction costs, all projects require permit fees and Professional Management Services (a sliding scale percentage of the design and construction value of your project).
To ensure proactive service and continuous communication through the life of your project, a Professional Management Services (PMS) sliding fee scale has been implemented to supplement University-provided salary support for PDC. Fees are charged 50% due at the design funding draw (using the total project estimated cost basis for the fee) and the remaining 50% due at the construction Budget Approval (using the total project actual cost as a basis for the fee).
Project Cost
Cost to Client
From
To
Fee %
Min
Max
$0
$34,999.99
10%
$500
$3,500
$35,000.00
$99,999.99
9%
$3,500
$9,000
$100,000.00
$499,999.99
8%
$9,000
$40,000
$500,000.00
$1,999,999.99
7%
$40,000
$140,000
$2,000,000.00
$3,999,999
5%
$140,000
$200,000
$4,000,000
and up
4%
$200,000
TBD
SEEK DEPARTMENT / DIVISION / UNIVERSITY APPROVAL
Your proposed project will affect your department's space and monetary resources. Prior to submitting a project request, you must receive approval from your Dean, Director, or Chair, and work with your budget manager to identify the funds that will support your project.
Any project request that adds space to the campus, changes space function, transfers "ownership" of space, reconfigures existing space by removing or adding walls, or alters occupancy must be approved by the University Space Committee prior to progressing as a minor project. If your unit requires new space, a change of room function, or would like to transfer space, please request here prior to completing the PDC project request.
Please note that seemingly simple modifications to furniture can have effects on occupancy due to occupancy code changes in recent years. If applicable, the project request will route to the office of Space Administration for an initial review followed by a subsequent review with the University Space Committee.
SUBMIT PROJECT REQUEST
Project requests are submitted using the Minor Project Request Form. Please complete the form and attach any narratives, floorplans, or spec sheets that will help describe your project request.
PROJECT REQUEST APPROVAL AND PROJECT ASSIGNMENT
Once submitted, your request will route for additional approvals from the Office of Space Administration, the Design and Construction Standards Coordinator, the University Architect, and the Assistant Vice President of Planning, Design and Construction. Once approved and staffing capacity allows, a PDC Project Manager or Facility Operations Planner will be assigned.