Campus Projects General Information
In compliance with Board of Governor's Regulation 14.020, the Planning, Design and Construction (PDC) Department is responsible for the administration of all campus projects – whether remodels, renovations, additions, or new construction. The role of PDC is to help assess the need for and provide physical facilities to support the academic, research, and service mission of the University. PDC can provide Design Services (Feasibility Studies, Space Planning and Analysis, Concept Design) when requested. PDC will also professionally manage Campus Projects to ensure that they conform to UCF Standards, that all required permits are in place, and that final as-built conditions are properly documented.
Please read the following information before clicking the minor project request submission button at the bottom of this page.
Campus Projects Requests
The "click here to submit a submit minor project request" button below links to the project request form. This form is web-based and must be filled out in its entirety to submit a new project request. Once submitted, it will route to various Facilities & Business Operations (FBO) employees for review and approval. Once all approvals are obtained, a project will be created and as capacity allows a Planning, Design and Construction (PDC) Project Manager or Facilities Operations Planner will be assigned. Within a week of project assignment, your project manager or planner will contact you to discuss the project's scope and schedule. The project will be available for your review in e-Builder.
Funding Transfers and Project Manager Support
Update 05/03/2023: It is unlikely that projects requested after March 1, 2023 will have funding restricted to the project this fiscal year. We encourage you to discuss internally with your leadership and budget managers if under these circumstances you would still like to move forward with the project request, and if so, how the earmarked funding can be made available in FY 2024. Planning, Design and Construction can accept all valid projects, but if we do not have project manager support to execute a project, it will be placed in a "NOT ASSIGNED" category until we can support the project request. Projects in this "NOT ASSIGNED" status cannot and will not be able to accept project funds. Funding is only transferred to project accounts after an approved Minor Project Proposal (MPP) for design and/or construction services has been fully scoped. Requesters are responsible to ensure that funding is available across multiple fiscal years to execute their projects.
PDC Professional Management Services (PMS) Cost
July 1, 2021, PDC implemented a new PMS sliding fee scale. The sliding fee scale ensures proper PDC funding for necessary staffing to provide proactive service and continuous communication through the life of your projects. In addition, this fee structure more accurately reflects the work necessary to plan, design, permit, bid, construct, and close out projects. Fees are charged 50% due at the design MPP (using the total project estimated cost as a basis for the fee), and the remaining 50% due at the construction MPP (using the total project actual cost as a basis for the fee).
Project Cost
Cost to Client
From
To
Fee %
Min
Max
$0
$49,999
15%
$1,000
$7,500
$50,000
$99,999
12%
$7,500
$12,000
$100,000
$499,999
9%
$12,000
$45,000
$500,000
$999,999
6%
$45,000
$60,000
$1,000,000
$1,499,999
5%
$60,000
$75,000
$1,500,000
$1,999,999
4%
$75,000
$80,000
$2,000,000
–
3%
$80,000
TBD
Professional Management Service sliding fee scale:
$0 to $50K – 15% with $1,000 minimum
$50K to $100K – 12% with $7,500 minimum
$100K to $500K – 9% with $12,000 minimum
$500K to $1M – 6% with $45,000 minimum
$1M to $1.5M – 5% with $60,000 minimum
$1.5M to $2M – 4% with $75,000 minimum
$2M or greater – 3%
Cost Escalation
The current construction market is experiencing significant cost escalation and schedule uncertainty. Limited factory production has caused material shortages which has driven up material prices. A reduced labor pool has driven up labor costs. Both of these factors have created uncertainty on project schedules. The industry is seeing many contractors and sub-contractors giving limited duration quotes (some as short as 24 hours), and many are putting project clauses in their quotes so they can pass on the escalation cost of materials from the time of their quote to the time of actual purchase. This will impact our project budgets and schedules, and our ability to provide fixed costs and schedules to campus clients. PDC will be taking a few steps to mitigate these issues:
In some cases, PDC may increase our project contingency from 10% to 20%, to help account for material escalation costs and added schedule delays (and their resulting impact on manpower costs). If campus clients are not comfortable with the higher percentage, PDC will need to qualify our Minor Project Proposals so they are subject to cost increases due to escalation (campus clients will need to provide added funding if escalation costs are validated).
End users will need to rapidly approve project budget approvals. Contractors will not hold their prices for months, or even weeks, while the university figures out funding. Campus clients need to be prepared to fund projects quickly, or face cost increases and schedule delays.
Currently PDC processes Owner Direct Purchase (ODP) change orders which deduct the material cost from a contractor's scope, and then issues a Purchase Order directly to the material supplier. This saves the campus client sales tax (6%), and we typically follow this process on all scope over $5,000. However, this process can add significant time to projects, and in this market the cost savings may not exceed the sales tax savings. For now, ODP's will be evaluated on a case-by-case basis, and our PDC department leadership. In many cases we will skip the ODP process, in order to avoid costly delays to projects.
Thank you for your patience during this very volatile construction market.
Funding
Minor Project applicants must refer to the UCF Expenditure Guidelines on F&A's website, specifically section IV, to verify that the proper source of funds is being used for design and construction projects. Visit www.fa.ucf.edu, under the Resources/FA Forms & Procedures/Business Procedures and Guidelines/UCF Funds Use Guidelines.
Facilities and Business Operations, and PDC, do not provide funding for Campus Projects. All funding for projects must be provided by the requestor. As part of your project request, you must provide funding worktags for your project, and the budget amount that you have available to fund your project. Though the funds will not be restricted to your project until the project is fully scoped and the budget approved, sharing your available funding with PDC is critical to the success of your project – without knowing the funding available for a project, it is impossible for us to know if your scope is achievable.
It is important to keep in mind that when you request modifications to a room, that the room must be brought up to code for the new use of the space – this often causes unanticipated costs, but they are a part of the project and must be funded by the requestor.
Cost Estimates
If you are unsure of the cost of your project, PDC can assist in providing a cost estimate. To request a cost estimate, follow the project request process, and clearly list in your project description that a cost estimate is desired. While PDC will endeavor to provide accurate and reliable cost estimates, our estimates are usually based on partial information and are subject to change depending on scope adjustments and market conditions. Rough order of magnitude project estimates can be provided by your project manager and will only cost $150. If you require a close range estimate a third-party cost estimator/ architect/engineer/contractor must be engaged at a cost to the requestor. PDC estimates are our best "statement of probable cost" of a project given the scope that we know at the time, with pricing known at the time. In addition to the design and construction costs, all projects require BCO Permit Fees, SFM fees (if applicable), and Professional Management Services (PMS, a sliding scale percentage of the design and construction value of your project).
Remodels, Additions, and New Construction
Any project request that adds space to the campus, changes space function, transfers "ownership" of space, reconfigures existing space by removing or adding walls, or alters occupancy must be approved by the University Space Committee prior to progressing as a minor project. Please note that seemingly simple modifications to furniture can have effects on occupancy due to occupancy code changes in recent years. If applicable, the project request will route to the office of Space Administration for an initial review followed by a subsequent review with the University Space Committee. A clear and detailed description of your project scope will expedite project review.
Priorities
PDC manages a significant number of projects, and we have a number of internal procedures and steps to follow to ensure that projects are properly executed. As projects are started, they are assigned a priority category, as described in the diagram at the right. While we attempt to expedite all projects, ones with higher priority must be addressed first. We highly encourage our Campus Clients to plan well in advance of when a project is needed in order to allow PDC adequate time to properly execute your project.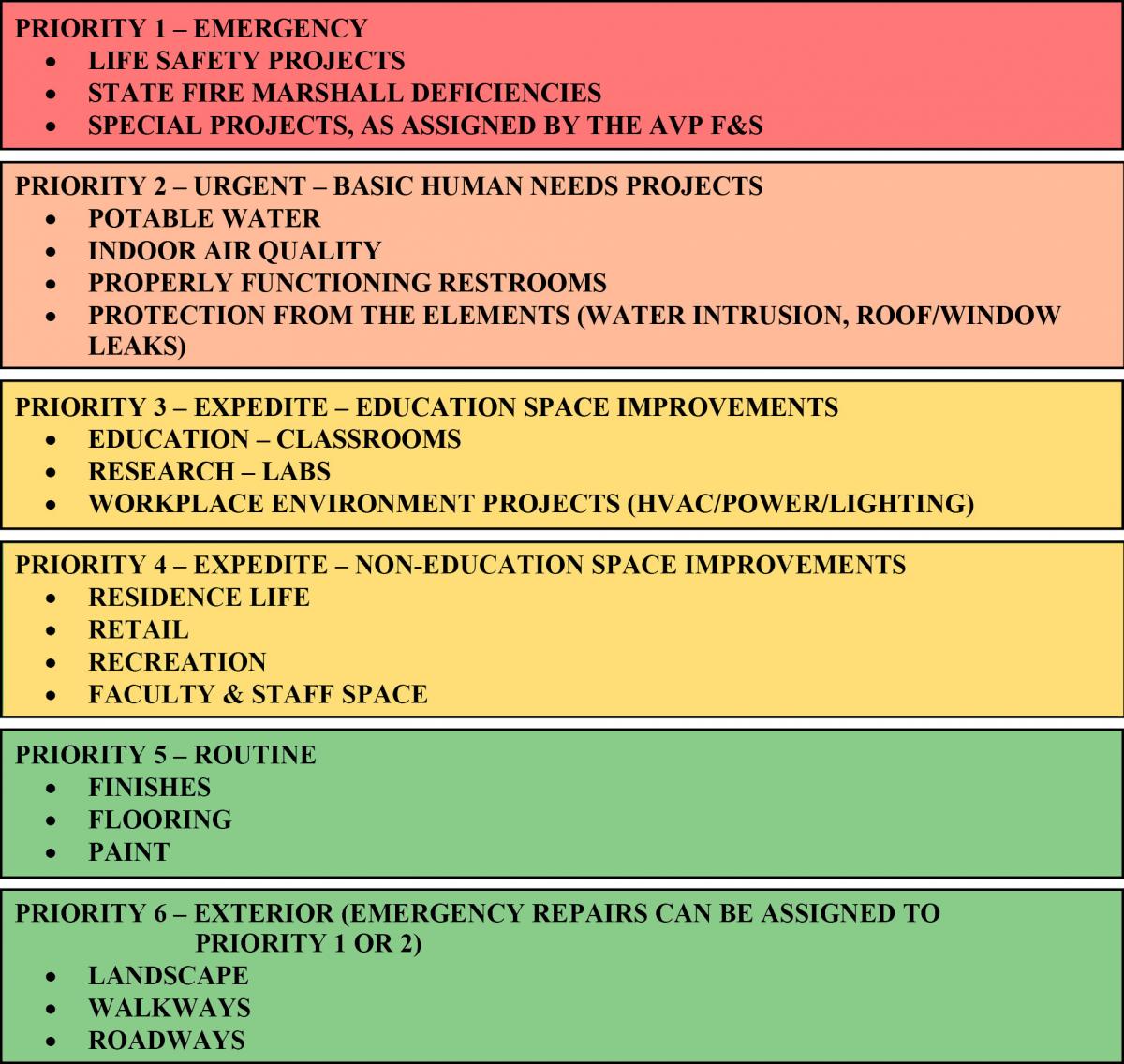 Schedule
It is very important to properly plan your project and submit a project request well in advance of when your project is needed. PDC manages approximately 400 projects at any given time, and there are many steps to approving, scoping, designing, permitting, bidding, and constructing any project. Please see the sample schedule below which illustrates some of these steps. Small projects can often be constructed without the need for an Architect/Engineer to create signed/sealed drawings, however these are generally under $50,000 in construction cost and have no adjustments to life safety components. More expensive (over $50,000) or complicated projects generally do require an Architect/Engineer's involvement. Projects that have adjustments to a life safety component (changes to room layouts, egress, occupancy, sprinklers, exit signs, fire strobes, fire alarm) require permitting through the State Fire Marshal (SFM). By statute, the SFM has up to 45 days to review drawing submissions. Therefore, it is critical that these types of projects be submitted well before they are needed so that they can be properly designed, permitted, and constructed. Below is a graphic illustrating the typical steps of a project and their average durations – these vary depending on the scope of a project so any project may take more or less time than what is illustrated below. If A/E and SFM involvement is not needed, it will reduce the time to scope and bid your project.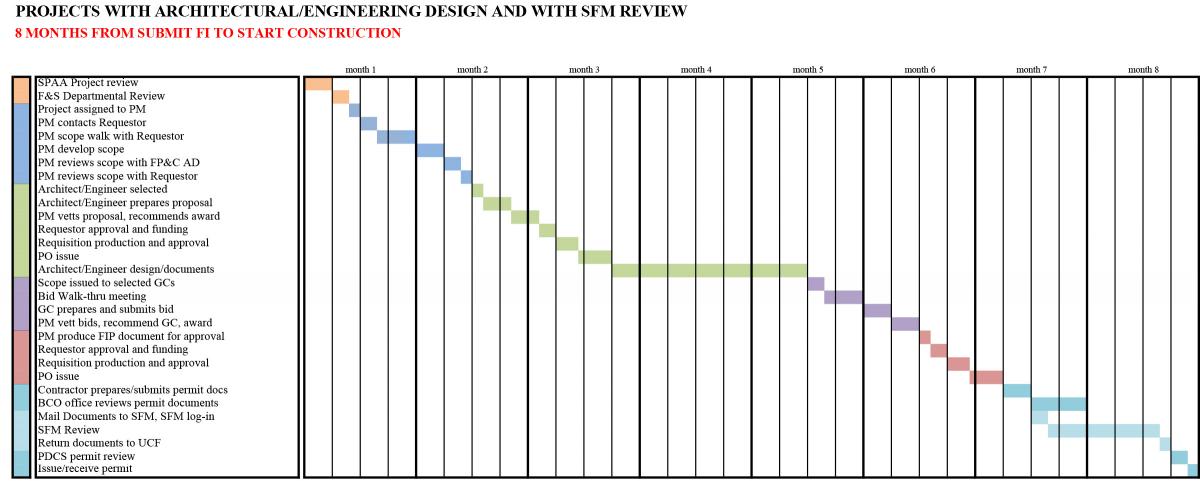 Camera and Access Control Projects
Projects that exclusively add cameras or access control to UCF facilities must be approved by the UCF Department of Security (DS) prior to processing by Planning, Design, and Construction. Please contact DS directly for these requests using the contact information below. DS will meet with you to discuss your request, help develop your project scope, offer suggestions for improvement, recommend product specifications, and work with third party vendors to establish a quote for the scope. Once approved by DS, a campus project request can be submitted by the requester including the approval documents from DS. Access control and camera installation request forms for can be found on the Department of Security's website: http://police.ucf.edu/security
Electrical Projects
Requestors of projects containing ANY electrical systems alteration should be aware that electrical panels and support systems studies will be conducted of all panels and support systems effected by the Requestors project. Electrical projects require either a 30-day load study, a detailed electrical panel analysis, or recent existing building documentation that clearly shows adequate electrical capacity in order to determine electrical capacity for electrical additions. These studies may have a cost and time impact – the requestor will be responsible for the cost of these electrical studies. The requestor will be responsible for the cost of ANY upgrades that are required to the electrical systems should they not have the capacity to accommodate the project.
Lab Projects
Requestors of lab projects should take note of several items prior to submitting requests:
100% of Lab Projects must be funded from the requesting department. FBO does not provide funding for any part of projects.
Principal Investigators (PIs) must submit a comprehensive lab narrative with their project request. This narrative must include:

Description of the intended use of the space – what type of research and experiments will be occurring with the completed project.
Complete list of new equipment going in the space, and any equipment to be removed. Include cutsheets of new equipment.
Complete list of chemicals and quantities to be used, and any chemicals to be removed.
Anticipated infrastructure requirements – added fume hood, power, process chilled water, eye wash, etc.
Draft SOPs for all activities in the space. Refer to the EH&S Laboratory Safety Manual (in particular page 41) for additional information on Lab Specific SOPs. The draft SOP(s) may need to be adjusted as design of the space proceeds, and ultimately must be reviewed by the appropriate entity prior to permitting of the project. EH&S can assist the PI with the process, PIs are encouraged to reach out to EH&S using the following email address: researchsafety@ucf.edu. The review of SOPs by the appropriate entity is the full responsibility of the PI.

Lab projects almost always require an Architect/Engineer to provide signed/sealed drawings for BCO and SFM review. These drawings are a requirement for permit and are not optional.
The Architect/Engineer process takes considerable time to perform site visits, develop existing plans, develop the new scope, perform code reviews, document the project, review drawings, revise drawings, and permit these documents. Requestors should plan in advance for this required time (see schedule above for minimum anticipated durations).
Often a seemingly simple project – like adding an outlet for a piece of equipment – can turn into an expensive project if the space itself is not currently designed for the piece of equipment that outlet serves. Many of our older buildings were not built to house today's research, and these spaces must be brought up to code for necessary wall ratings, ventilation, power requirements, safety systems, and other items required to create a safe environment for this work. These upgrades to the building infrastructure caused by new research must also be funded from the requesting department.
Regardless of existing room capacities, all renovation projects must use current building code occupancy levels, which may result in a reduced occupant capacity.
Furniture
Furniture purchases on the UCF campus are decentralized, the only furniture with specific requirements are for classrooms. Office, cubicle, conference room, and public space furniture can be purchased directly by departments. However, PDC and EH&S must review any furniture purchase that may trigger the need for a permit – in particular:
furniture that has built-in power (cubicles, some conference tables)
furniture that may change egress pathways (cubicles), and
furniture that may block life safety devices such as fire strobes or sprinklers
Click on the link below for the furniture review form. Please email this form to Michelle Embach, michelle.embach@ucf.edu, for review and processing. Upon request, PDC can work with departments on furniture recommendations, to ensure you are purchasing durable and properly warrantied products.
Cancellation
Projects with inactivity from a requestor for over 30 days may be cancelled. These projects can be reactivated quickly once they are ready to proceed. There is no cancellation fee for projects.